Sunset Beat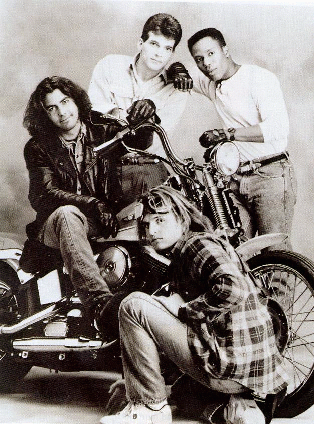 George as Chic Chesbro with his Sunset Beat costars
Character: Chic Chesbro
Occupation: police officer/rock star
Time on the show: 1990
Premise: Once again, this is not a show I have seen a lot of. In fact, I'm not sure if I ever saw this one. All I can really say is that, from what I have heard, it wasn't George's finest work. He played a cop/rock singer. That right there should tell you he wasn't going to win the Emmy. But I can't really give an opinion since I don't remember the show.
How it all ended: Again, I have no clue. I know it got canceled pretty quickly. I'm guessing it was for poor ratings.
Sunset Beat Pages
None that I know of. If you find any please send me the link
Sunset Beat Sounds
Again, I haven't found any. If anyone has the show on tape and would be willing to make me a copy please email me. Thanks!
If you remember this show and would like to help me out with the summary I would appreciate it. Email me! :)
This page was added on 7/6/98
Last updated 7/6/98
Created by Courtney Stovall © 1998