Sisters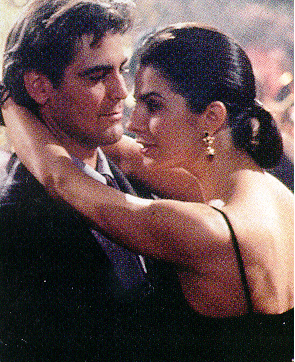 Det. James Falconer (George Clooney) and Theodora "Teddy" Reed (Sela Ward)
Character: Detective James Falconer
Occupation: police detective
Time on the show: 1994-1995
Introduction: Detective James Falconer was introduced when Teddy's daughter, Kat, was raped and Falconer was called on to investigate. Teddy Reed was one of the "sisters" and had been in and out of a lot of relationships over the course of the show. She and Falconer discovered they had a common bond; they were both recovering alcoholics. She was around Falconer a lot because of the rape case and, eventually, she fell in love with him. So, after the trial was over, Falconer stuck around as Teddy's boyfriend.
Background: Over the course of the show, we learned that Falconer had a little boy named Jimmy and an ex-wife named Maggie. Jimmy had been killed while playing with Falconer's gun. Falconer always blamed himself because he was supposed to be watching Jimmy at the time and had dozed off. The strain that his guilt put on his marriage eventually led to he and Maggie's divorce. She made one reappearance after her father died. Falconer and Maggie came very close to reuniting; he even left Teddy and moved back to where Maggie was living. However, the feelings they had had for one another were over and Falconer soon realized that the real love of his life was Teddy Reed. He eventually returned to her and, after a lot of apologizing, she took him back.
Favorite Moments: Falconer was one of the best characters George has portrayed and there are quite a few memorable scenes involving him. One of the most poignant was when Falconer was thinking about his son Jimmy and he has a flashback of sorts where he imagines he, Maggie, and Jimmy are all together again and things are as they once were. Then, as the daydream fades, he is alone in his car once again and just the look on his face as he lets Jimmy go one more time is a great example of the awesome actor that George Clooney is!
How it all ended: After a lot of going back and forth, Teddy and Falconer decided to get married. She surprised him by being on a plane that he was on while he transported a prisoner to Las Vegas. He had told Teddy it was work and he didn't want her coming but, as usual, she never listened. The plane ended up going down and, thinking these may be their last moments on earth, Teddy and Falconer had a Rabbi on the flight marry them. Falconer told her in his vows that he would be with her always, "in heaven, on earth, and everywhere in between."
Falconer and Teddy both managed to survive the crash, which was the last episode of the season. In the first episode the next season, we learn that they both escaped basically unharmed and had spent the summer getting their lives back together and settling into their married life. They start looking for a house and talking about having a family. Then, just as they were finally starting to be happy and getting their lives together, tragedy struck.
Teddy had always feared something happening to Falconer in the line of duty. He was shot once while they were dating and ever since she had had a terrible fear of the same thing happening again . . . only next time Falconer might not be so lucky. Several months after they were married, things looked good. Falconer had not been in any serious danger due to his job and there was no reason to suspect he might be. Then, Teddy had a nightmare. In her dream, she was watching Falconer leave for work and as she watched his car exploded. She woke up in a panic but was relieved to find it had only been a dream. Or so she thought. Her dream turned out to be more of a premonition. Later, as she went back in to get something from the house, Falconer went out to start the car. When he cranked the engine the car exploded. Someone he had put in jail had rigged the car with a bomb. Teddy watched in horror as the car was engulfed by flames.
Later, in the hospital, a doctor came in to see how Teddy was and to talk to her about Falconer's condition. We then learned that he had suffered sever burns but had arrived at the hospital alive. Things didn't look good, though. The doctor told her that the chances of him ever waking up from his coma were slim to none and asked her to sign the consent to remove him from life support. She finally agreed, not wanting to leave him hanging on when she knew he wouldn't want that.
Teddy, who had been left blind from the trauma of seeing her husband die, did not take his death very well. She started drinking again and didn't talk to many people. Eventually, only one person could help her: Falconer. He came back as an angel to help his wife through her grief and to protect her from the man that killed him, who was now after Teddy. When Falconer's killer was finally caught, he left again, reminding Teddy of his vow to be with her forever.
After Falconer: The final mention of Det. James Falconer came when a man appeared who claimed to have Falconer's heart. As it turned out, Teddy had signed something saying that her husband's organs could be donated and this man has indeed received his heart. Knowing that at least part of him was still out there helped Teddy to overcome her loss and get on with her life. Her sight returned and she stopped drinking. Still, things on Sisters were never the same after Falconer left.
Sisters Pages
Sisters Sounds
gw5.wav
George Clooney left Sisters at the beginning of the 1994 season because he got a part in ER. This turned out to be a very good move since the next year ER was the number one drama in the country and Sisters was in it's last season. Still Falconer will always hold a place in our hearts. :)
This page was added on 7/5/98
Last updated 7/6/98
Created by Courtney Stovall © 1998