The Facts of Life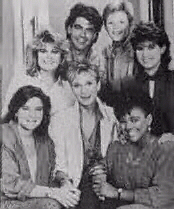 From the left: Natalie Green (Mindy Cohn), Blair Warner (Lisa Whelchel), Beverly Ann (Cloris Leachman), George Burnett (George Clooney), Andy Moffett (Mackenzie Astin), Dorothy "Tootie" Ramsey (Kim Fields), and Joanne "Jo" Polniczek (Nancy McKeon)
Character: George Burnett
Occupation: handyman
Time on the show: 1985-1986
Introduction: George played a handyman whose father ran the local hardware store. He was always coming over to hang out with the "girls" who were then running a shop called Over Our Heads. George was basically the token male on the show.
Background: Over the course of his year on the show, we learned that George had been a Big Man On Campus in high school. In fact, about the only thing they ever showed George doing was trying to pick up women, giving advise to young Andy (played by Mackenzie Astin), or being a key player in one of the girl's fantasies. All we really learned about his history other than his love life was that he used to install hot tubs in Kuwait and still recieved the Kuwaiti Times newspaper. He claimed it had the Third World's largest weekly crossword puzzle.
Favorite Moments: When it came time for George's high school reunion, he was nervous about going because he didn't have a date (seems he was supposed to take a bikini calender model but the girl, Ms. January, wasn't wearing a warm enough swimsuit and she came down with bronchitis). So, he ended up attending the reuinion with Jo (Nancy McKeon). George looked really cute in his suit and the scenes where he's trying to pass Jo off as a dutchess to impress his old high school crush are cornball humor at its finest.
How it all ended: George left the show after one year. The truth is, he was always a background player. The show had, and always would, revolve around the four girls that made up the main cast. There wasn't much left for the writers to do with George.
Facts of Life Pages
The Unofficial Facts of Life Website
Facts of Life Sounds
fol10_4.wav : You can always count on George to get the job done, lol.
folyodel.wav : George demonstrates his vast knowledge of world culture
fol_date.wav : Dating advice from the master
fol_xmas.wav : All *I* want for Christmas!
folharem.wav : George puts Natalie in line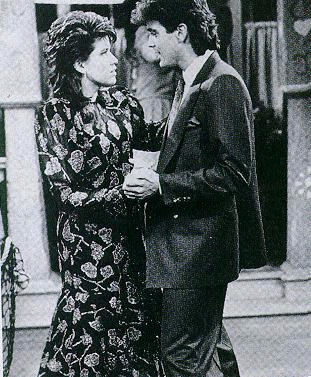 Jo (Nancy McKeon) and George (George Clooney) at his high school reunion
This page was added on 7/6/98
Last updated 7/6/98
Created by Courtney Stovall © 1998