E/R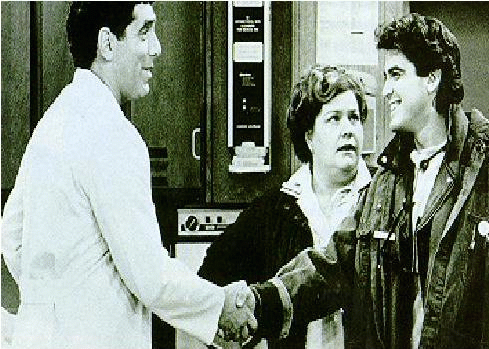 George as Ace with a few of his E/R castmates
Character: Mark Colmar aka Ace
Occupation: ER intern
Time on the show: 1984
Introduction: All I really know about this show is that it starred Eliot Gould and it was set in a hospital emergency room. Unlike the ER we all know George from, this show was a comedy. It was a spin-off of The Jeffersons. George played Ace, the ER intern whose aunt was one of the nurse's on staff there.
Favorite Moments: The only scene I have seen from this show is the one that Jay Leno dug up for George's appearance on the Tonight Show when he was promoting Batman and Robin. In it, Ace's aunt introduces him to one of the other nurses and George delivers a cornball line that was probably pretty typical of the show. You can hear it by downloading the sound clip below.
How it all ended: E/R didn't last too long. After the first season, it was pretty evident that this was not groundbreaking TV so the series was canceled. Luckily for George, since he went on to star in the ER people will actually remember 10 years from now.

Ace (George Clooney) looking very intelligent in this shot. :)
E/R Sounds
This page was added on 7/6/98
Last updated 7/6/98
Created by Courtney Stovall © 1998